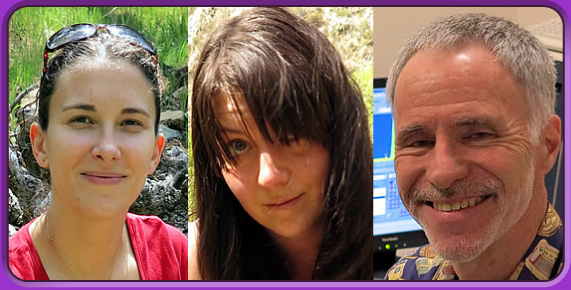 Eloise Gaillou, Associate Curator of Gems and Minerals
Alyssa Morgan, Collections Manager, Mineral Sciences
Tony Kampf, Curator Emeritus, Gems and Minerals
Natural History Museum of Los Angeles County
What did you think you wanted to do in high school?
Alyssa Morgan: I wanted to be an astronomer, but when I took a geology class I liked it a lot! I ended up studying planets, which are made of rocks, which are made of minerals.
Eloise Gaillou: When I was a kid, I thought I would be a vet. I always liked nature, animals, plants, and... obviously rocks. It's only when I entered university that I realized that studying rocks could be a real job for grown ups!

Recommended by Alyssa Morgan:
mindat.org.
Be careful, access to collecting sites depends on who owns the land.
Websites that list collecting sites are not usually up to date. Even on public land there may be an active claim on a mineral deposit and you may be trespassing.
Check with local mineral clubs, they often lead field trips to sites they have permission to visit, this is the safest way to collect!
Recommended by the Kids' Science Challenge:
FindingRocks.com
Started by an amateur rock hound who enjoys discovering new places to find some nice rock specimens. "This is a place where we can share locations to collect specific minerals, crystals, fossils, etc." As of July 2014, this website cataloged 522 rock collecting locations in 46 states.

Tony Kampf: I wanted to be a chemist.
When did you first get interested in this kind of work, and who or what made you think it might be for you?
Alyssa Morgan: I always liked earth sciences, but in college I got to take geology and go on field trips to volcanoes and deserts and see what geologists actually do for a living and it was so fun. Working in a science museum is just one of many possible careers in the field of geology. Geology is the study of the Earth, so the whole planet is your classroom, what part do you want to work on?
Eloise Gaillou: It was when I visited the department of mineralogy at my university in France that I realized that geology was an option: the professors there took me on amazing tour not only showing me rocks, but showing me their scientific research. One professor showed me for example the experiments he was conducting on recreating the movement of tectonic plates with silicon models. In a few minutes, he was able to reproduce a subducting plate entering the earth mantle, which occurs in real life in millions of years. After all, rocks and minerals are not only pretty; they also tell us about the Earth processes, at the surface of the Earth but also deep down. Also, it is by studying the Earth that we can understand how other planets work.
Tony Kampf: I got interested in college. I was getting my degree in chemistry when I took courses in mineralogy, crystallography and petrology.
What training or education is required for this job?
Alyssa Morgan: You should have a college degree in a scientific field. In science museums there are many different types jobs that may require a Bachelor's degree, Master's degree or PhD. A good way to get experience working in a museum when you are in high school is to start as a volunteer.
Eloise Gaillou: My job title is Associate Curator. After a few years, I hope to become a full curator (a few years are needed before getting the curator grade). For this job, a PhD in geology or related fields is required. A degree in museum studies is not necessary. Most importantly, it means that I am not only taking care of the minerals and gems in the collection, I also have to produce some scientific discoveries, and publish my data and interpretation in specialized magazines. I spend a lot of my time studying diamonds, and trying to unveil some of their secrets: what gives them color? How and where are they formed?
Tony Kampf: A Ph.D. is usually required for higher level jobs, but a bachelors or masters is sufficient for lower level jobs. A strong background in science, especially geology and chemistry, is essential.
What's been your most memorable/surprising experience on the job?
Alyssa Morgan: In Gems and Minerals, we travel a lot. We visit mines in foreign countries to acquire new specimens for the museum's collection. The biggest surprises for me have been seeing when minerals come from, how there are mined and processed into the materials we use in our society. Like seeing where your food comes from, it's also mind-blowing to see the hole in the ground where your cell phone, car, or jewelry comes from!
Eloise Gaillou: I had the chance to get a postdoctoral position at the Smithsonian Institution (which is a temporary position in a scientific laboratory). Being an expert on diamonds, I eventually (after 2 years at the Smithsonian!) got the chance to touch and study the most famous diamond in the world: the Hope diamond. We needed to understand and quantify the blue color of the diamond, among other things. Holding the diamond, preparing it for experiments while being watched by the head curator and a few security guards in a highly secured environment was definitely one of the most stressful but also one of the most exciting experiences in my life!
Tony Kampf: Almost everything has been memorable and enjoyable.
What have your career steps been? Has it been a direct route to where you are now, or have you tried other things on the way?
Alyssa Morgan: No it was not direct, that would be quite unusual. First, I studied geology in college. Then I spent several years in graduate school continuing to study geology and getting a Master's degree. Next I worked in the environmental sciences industry but it wasn't the career I wanted so I went to work at a museum which combines science with education and public outreach. Science education is something I am very passionate about!
Eloise Gaillou: When I entered the university, and even after choosing geology, I didn't think I would get a PhD, just because I didn't think I would be interested... and it looked super long to get it! I wanted to know enough to be able to study gems in a gemology lab, for example. But scientific research and unlocking mysteries about gems got me carrying on until the PhD, without even noticing the time flying. But from the Master degree on, you are almost already a real scientist. During the PhD, it is actually like having a full time job, as you are working full time in a laboratory, and you are getting paid for it. At the end of the PhD (or even before!), you realize that you know more on the matter you are studying than your own boss. That's when I realized I was a grown up and that I was ready for a "real" job!
Tony Kampf: I spent my entire career in the job I got right out of graduate school, and I am still doing it now that I'm retired.
What's been the biggest challenge in your career, and what did you learn from it?
Alyssa Morgan: Honestly the biggest challenge was figuring out what I wanted for my career. It is important to consider what type of job you want to have (research scientist, teacher, industry professional, etc.) then educate yourself appropriately. You may find along the way that the job you want doesn't really exist or once you try it you realize you don't like it! Be prepared to change your mind and don't worry too much if you do! If you have studied science you will have many options open to you and you have time to try different things.
Eloise Gaillou: My training is a scientific one. I work with rocks. Even if I taught for undergrad students during my PhD, I've never been trained to interact with the public or students. Getting to deliver clearly and simply a scientific message is my biggest challenge. And think about it: in a museum, it is not only interacting directly with people, it is also creating new exhibits and deliver a message through a new way. We are also trying to reach out to people through social media such as Facebook, Twitter, and blog posts for example. We still learn every day!
Tony Kampf: My first big challenge was installing our Gem and Mineral Hall which opened in 1978. I helped me to understand how to make the science of mineralogy understandable and enjoyable for the public. Late in my career, my biggest challenge was becoming the US delegate to the Commission on New Minerals, Nomenclature and Classification.It made me much more aware of the process of discovering and characterizing new minerals.