Teachers and Parents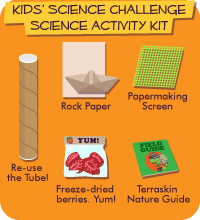 The first 1000 kids who take the Kids' Science Challenge will receive an amazing
FREE Science Activity Kit.
The Kit includes activities and items related to the three science topics. Turn a milk carton into a bird feeder and fill it with a delicious seed mixture, yours from Kids' Science Challenge. Turn a rock into a paper boat. It's not magic. It's a sample of Terraskin — part of the KSC Science Activity Kit. And wash it all down with another great gift from KSC — a plateful of freeze-dried strawberries. Eat like the astronauts — but don't let the strawberries float off your plate.

Space Cafe
How would you create a system to hold together one complete meal in space?
Upside-Down Food Science
How can astronauts swallow in zero gravity?
What Rot!
Can you find ways to keep fruits and vegetables fresh longer?

Animal Flip Book
What kinds of tools do animals use to solve problems?
Crow Creativity
Can you solve a problem as creatively as a crow?
Memory Challenge
Is your short-term memory as good as a chimp's?
Pet Smart Toys
How can you challenge your pet so they'll get to use their animal smarts?

Egg Drop Challenge
Can you design a package that keeps an egg from breaking when it is dropped from 10 feet in the air?
Label It
What's the best way to promote your product?
Protector of the Planet
Can you follow the three R's and Reduce, Reuse and Recycle?

Sound Sandwich
What kind of musical instrument could you make with rubber bands, craft sticks, and drinking straws? Find out, and play a tune.
Tube Whacker
Banging things against the floor to make noise sounds like something that could get you into trouble. In this activity, banging things will sound like musical scales!

Oobleck
What's both a liquid and a solid, very messy and fun to play with? It's Oobleck!
It is Slime Time
Can you make the slimiest slime?

Mud Battery
Talk about an alternative energy source: Bacteria in mud can create an electrical charge! And you can make them do it!
The Fungus Garden
Make some leftover food turn crazy colors, grow fuzz, and get really gross.
Yeast Balloons
How can you make a balloon inflate without blowing into them? Try Yeast Ballooons and find out!
Make your own Yogurt
Find out how you can turn milk into yummy yogurt.

Science Under Pressure
Your friends will be amazed as you 'magically' seal a plastic bag to a bowl using only the power of air pressure.
Play Balloon Ball!
Would balloon baseball work better on Earth or Mars? Find out with our balloon toss activity, then design a Balloon Ball game for each planet.
Which One Is Home?
Would you recognize your home planet from high up in the sky? Find out as you compare satellite images of Earth and Mars.
Build A Soda Straw Rocket
Make and test a mini-rocket, just like a NASA engineer, and improve it until it can fly high.
Play this fun online game!

Send A Top Secret Message
Write a message, then use crayons to cover it up. Nobody can see it – until you give someone the simple tool needed to read your words.
Make an Invisible Electrostatic Message
Use the power of charged particles to write an invisible message on a balloon. Then a friend how to make the message visible.
The Case of the Pushy Pencils
You're a detective. Your suspect just wrote a message on a pad of paper, then tore off the top sheet and ran. You grabbed the pad – how can you find out what was written there?
Learn the Secrets of Fingerprints
Who drank your smoothie while your back was turned? "Lift" the fingerprints to find out – and discover how to match prints to a suspect.
Your Body Rules!
Can you tell how tall someone is by looking at the size of their foot?  Check it out!
That Sinking Feeling
How can you make water float? Put liquids into layers as you build a gradient tube.  Then learn how scientists test for different materials by seeing whether they sink or float.
Backyard Detective
Even a boring-looking stretch of your yard or park can be home to fascinating species – and to clues that they were there.
Play this fun online game!

Take the Blindfold Challenge
Tie a blindfold around your eyes, then make some amazing discoveries about natural objects. Use your senses to observe and figure out each object's function.
Meet At the Function Junction
What objects in nature can turn garbage into something useful, or stick like glue? Take the challenge and find out as you play!
It's Slime Time!
Can you make the slimiest slime?
Jumping Roaches!
Feeling jumpy? Your challenge here is to make a model roach that really hops.
Clean Teeth and Sticky Toes
Have you been brushing your teeth with gecko feet? Find out how your toothbrush is just like a certain lizard's toes.
Play this fun online game!

Make a Flavor Lab, Cola-flavored Frosting, Secret Soda, or other fun flavor experiments. To get instructions just download the FLAVOR SCIENCE PROJECTS [PDF:122KB]

You can show where water comes from with a "fingerprinting" experiment, demonstrate how to take the salt out of saltwater, or build your own water sampling kit. To get instructions just download the WATER PROJECTS [PDF:166KB]

You can do experiments with balance and speed and show how skateboards use physics. To get instructions just download the SKATEBOARD PROJECTS [PDF:195KB]

Build your own radio to show how astronomers at the SETI Institute listen for signals from aliens, or make a message decoder to show how the SETI scientists might make sense of alien signals. To get instructions just download the SETI PROJECTS [PDF:259KB]


To get a booklet with more experiments on the Year 2 topics (Sports on Mars, Detective Science, and Bio-Inspired Design), just download the KIDS' SCIENCE CHALLENGE ACTIVITY KIT [PDF: 2.31MB]. You'll need to buy some of the parts. After you've decided which experiment you want to do, here's where you can get the more hard-to-find supplies:
To get a booklet with more experiments on the Year 1 topics (Flavor Science, Water Quality, Skateboard Engineering, and SETI), just download the PDF from the KIDS' SCIENCE CHALLENGE ACTIVITY KIT [PDF:1.3MB]. You'll need to buy some of the parts. After you've decided which experiment you want to do, here's where you can get the supplies: